back


Atlas — excerp from solo exhibition at Khm Gallery, Sweden

The progression of the exhibited photographs, as you move through the gallery, follows a camera's exposure over time: they start in the under-exposed and wordless, where all colours are driven out of the photographs. From black they will fade into grey. Then, rose and timid yellow would start to appear. Then green.
It would end in the narrator's normal state — in the colour blue as a kind of balance. The intensity and hue of the colours are directly derived from daylight and the camera's exposure. The viewer's passage through the gallery would be a movement through a colour scheme and thus a movement through time.


"Consider the blue, you said, and released the colour from the sky". After our fission, I carry myself into the blue again to become part of a collection and part of an atlas. The connection with the pictures is the body - the colour is the asset of light. If colour were a room in which I could lie, or my body was a room in which you moved. I'm waiting for the second it breaches. Hallelujah.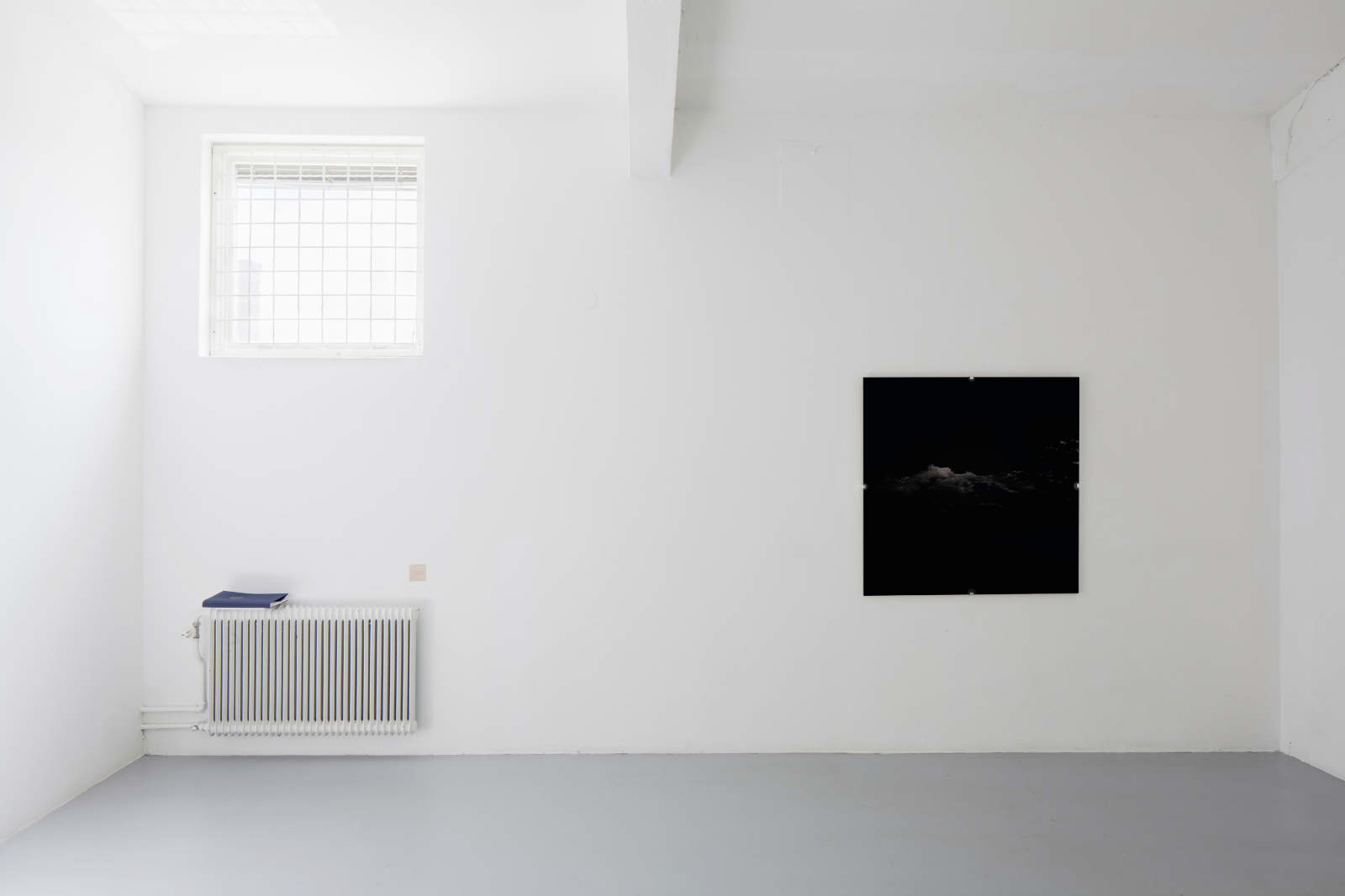 untitled (wave)
, 2017
analogue colour photography, digitally printed, 100x100 cm
untitled (interior) & untitled (portrait),
2017
analogue colour photography, digitally printed, 100x100 cm
snylter (parasite)
, 2017 (post-it text fragments)
"hvis ord er begyndelse"
untitled
, 2017
analogue, colour photography
atlas
, 2017 — publication (68 pages and 13 unfolding "maps")
made in collaboration with tacet press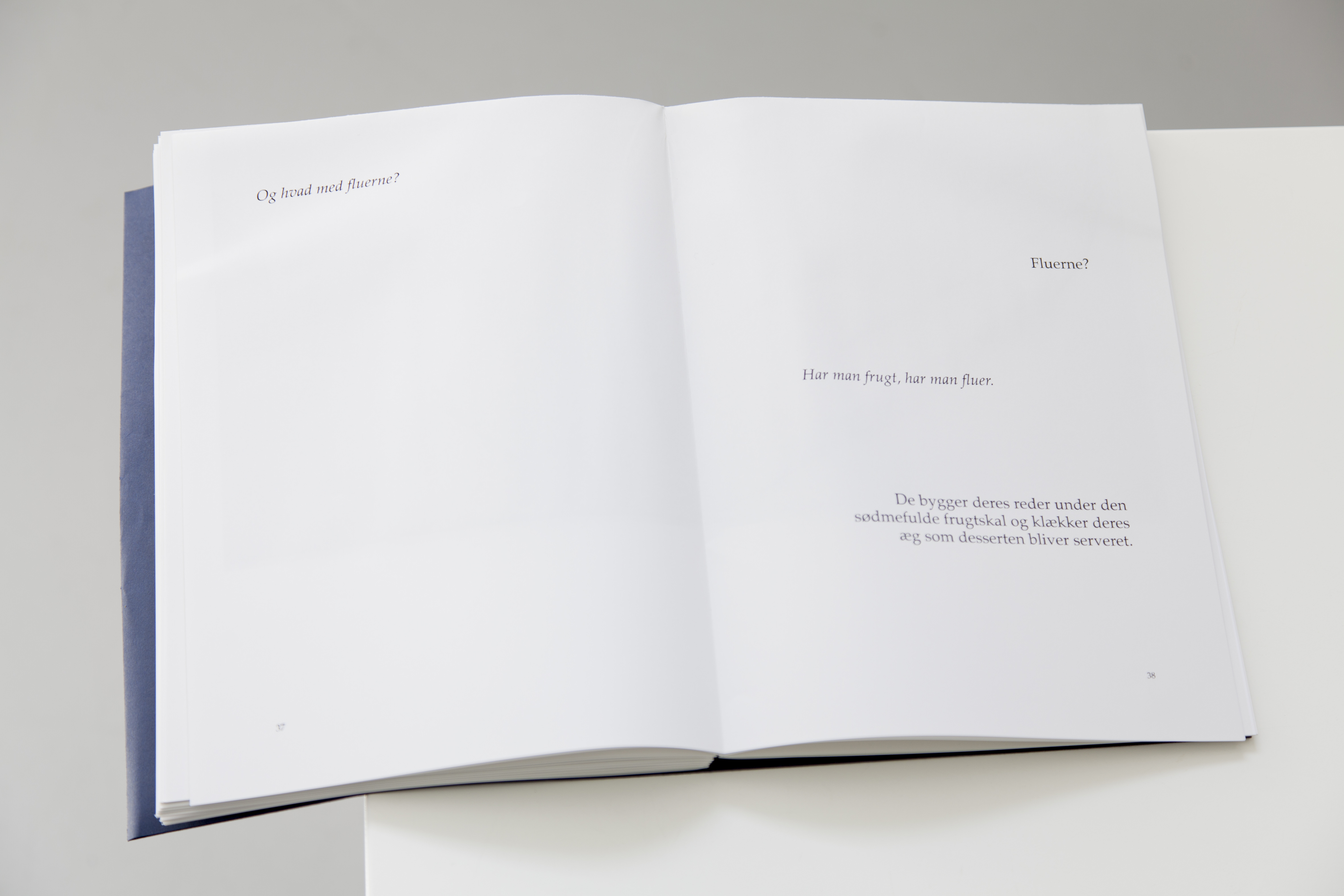 atlas
, 2017
installation view. circuit I & II,
2017

circuit I, 2017

I'm translating all the time. In order to communicate, I've got to translate. It's quite simple. This text moved from Danish to English. I constructed a video sequence with this in mind. The material consisted of recordings of starlings hunting insects; these birds turned up in home videos that I got from my mother. The chattering of starlings moves rhythmically, as if the starlings were one collective body. Whenever the chattering took on what I understood to be a solid form, I would pause the video and take a picture. I did this until I only had solid forms. Subsequently, I put the pictures in motion, animated them, and created a new rhythm. A ritualistic, repetitive chattering of starlings. A visual language, displayed on a screen, in a short loop. On another screen, I had another circuit, a chattering of words moving forward as a wave. In this manner, the two screens try to sustain a conversation about the circuit, albeit it becomes interrupted by the difference between languages, in the internal genesis of the misunderstandings.
untitled
, 2017
analogue, colour photography, digitally printed
100x125 cm
diptych
, 2017
analogue, colour photography, digitally printed
each part 105x105 cm (total 105x210 cm)
cartography I & II, 2017
analogue, colour photography in 4 parts, digitally printed
each part 100x100 cm (total 200x200 cm)
cartography II, 2017
analogue, colour photography in 4 parts, digitally printed
each part 100x100 cm (total 200x200 cm)
cartography I & II, 2017
analogue, colour photography
untitled, 2017
analogue, colour photography, 100x100 cm
snylter (parasite)
, 2017 (post-it text fragments)
"hvis farve var et rum jeg kunne ligge inden i det, eller rummet du gik i var min krop"